Although we are still in the midst of the Coronavirus crisis, most Arizona restaurants have re-opened their dining rooms in some capacity and are still offering takeout and delivery in an effort to stay afloat. These are unprecedented times, which is why you can't depend on your pre-COVID marketing efforts to get you through them. Your marketing and public relations strategy needs to adapt to the current climate to keep your brand relevant and in business. Here are five public relations Coronavirus restaurant recovery tips:
Over communicate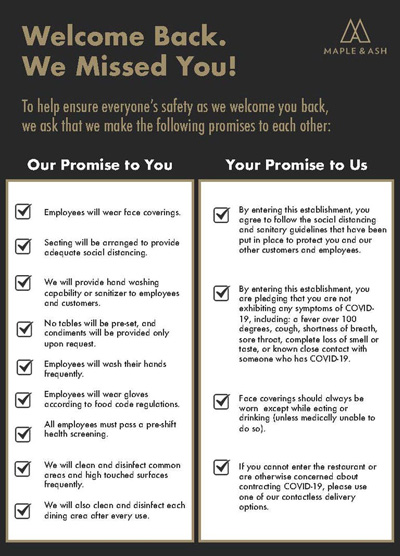 Communication and transparency are more important during the Coronavirus crisis than ever before. Your customers have warranted concerns about their safety and clearly communicating what precautions your business is taking is the number one thing you can do right now to ease them. Share both your internal protocol and what is expected of your customers as it relates to sanitizing, wearing masks, social distancing, hand washing, as well as any additional unique measures your business has instituted to ensure a safe environment.
In addition to communicating the precautions your company is taking, make sure to reiterate any changes to business as usual as a result of the virus. Have your operating hours changed? Have you implemented a limited menu? Do you have new takeout or delivery options? Avoiding customer confusion and frustration is imperative to retaining brand loyalty during this challenging time.
Offer unique promotions
Competition is fiercer than ever right now as many people have less expendable income than normal and are being more judicious with how often and where they dine out. Even if your restaurant doesn't typically offer discounts or promotions, it might be time to reconsider. Give people a reason to choose your restaurant over another with an offer they can't refuse. Adler PR client, Maple & Ash, is a great example of this. During the stay-at-home order, the upscale dine-in steakhouse not only pivoted quickly to provide their menu items via takeout, but did it with one of the most generous offers in town – a dollar for dollar match on all pickup orders that was paid via gift cards for use when the restaurant's dining room re-opened.
Even if you aren't able to offer as enticing of a promotion, giving your guests an extra reason to dine in or order from you will set you apart from your competition.
Go virtual
COVID-19 has upended every day life, which means that many of the things you used to do to market your restaurant are not currently possible. Rather than abandoning them completely, consider if there might be a way to accomplish them virtually or come up with completely new initiatives that better lend themselves to an online experience. Think virtual dinner parties, online cooking/cocktail classes, a digital cookbook or contributed recipes, social media Q&A sessions, posting more behind the scenes content, etc.
Pivoting your efforts to keep your fans and followers engaged with your brand virtually, while we have to physically distance will translate to loyal guests once things return to the new "normal."
Leverage influencers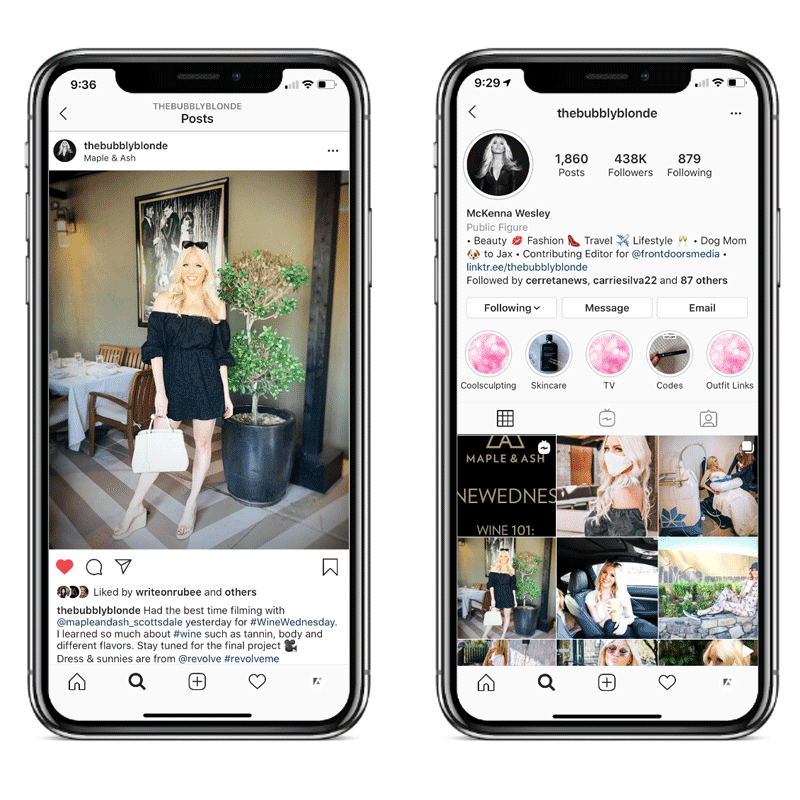 Working with local influencers and bloggers is an effective and affordable way to gain more exposure for your restaurant, especially right now as marketing budgets are tight. Most local influencers, as long as they are legitimate fans of your brand, will consider posting about their meal or experience for trade. Invite them in for a comped meal or offer them takeout in exchange for social media promotion on their platforms. It tends to be the most successful when you give the influencer free rein to post content in their own style and voice, so it is on brand for them and resonates with their followers.
Consider expanding influencer partnerships that perform well beyond just a comped meal and a social media post or two. Think about more impactful ways to team up, such as educational videos, charity initiatives, profile takeovers and more. We recently partnered with McKenna Wesley, aka @thebubblyblonde, on behalf on Maple & Ash to shoot a series of #winewednesday videos. They not only resulted in awesome IGTV segments for Maple & Ash, but extended our reach to McKenna's more than 438,000 Instagram followers.
Give back
Giving back to your local community is not only the right thing to do, it's a great way to generate positive press for your brand. If you are in a position to donate meals or monetarily, consider supporting frontline healthcare workers, first responders and/or families faced with food insecurity. Obviously restaurants are hurting right now too, so if you're not financially able to contribute to a cause outright, consider running a sales promotion with a charity tie. Partner with a nonprofit like a food bank or children's charity to come up with a mutually beneficial offer. It could be something like buy a meal and one meal will be donated to a family in need, or purchase a specific menu item and 100% of the revenue from those sales will be donated to the charity. This is a win-win for restaurants because it not only drives new business with customers who are inclined to give back too, but creates a story for you to tell of how your brand is benefiting the community during this tough time.
Unfortunately, it appears that we have a long, uphill road ahead but these five tips will hopefully get you headed in the right direction. Above all, remember to express gratitude to your loyal customers who continue to support your business through this challenging season. We are all truly in it together.